Dr. Fabiola Fagnani
---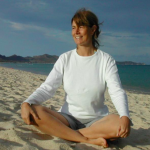 Fabiola Fagnani began the practice of Hatha Yoga in 1986 and since then has pursued a journey of deepening and personal training.
She graduated in Languages ​​with a thesis on the text: "A Treatise on the Yoga Philosophy", written in 1851 by N.C. Paul, a medical officer stationed in Benares. She followed the Yoga teacher training courses at the ' Accademia Yoga' in Rome.
She deepened her knowledge of the discipline through stays in India at Swami Sivananda's ashram.
She has been teaching since 1998 at Institutions and gyms in Rome.
She delivers private lessons for individuals or groups with particular attention to people with psycho-motor difficulties and senior citizens.
She taught Hatha Yoga to the athletes of youth competitive teams and conducts meetings of Yoga Nidra and psycho-physical relaxation techniques.